Haney Marine and Outdoor
8390 US-72,
Athens Alabama, 35611
Tel:256-232-5850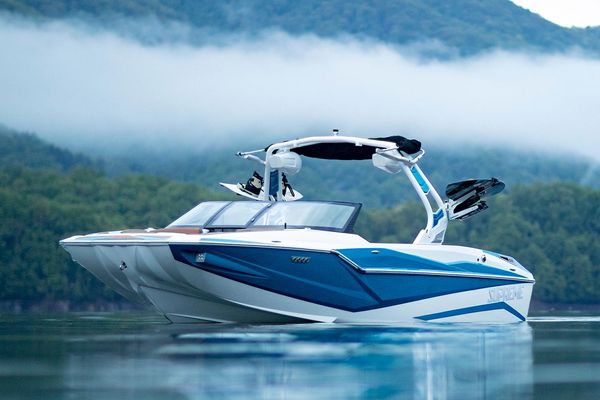 One look at the 23-foot 2-inch ZS232 from Supreme Boats, and you will know you are looking at a high-performance wakesurf boat. The ZS models are named for their Z-shaped sheer line, but internally they are known as the Zeus boats because riding one is like surfing a lightning bolt — embodying the mythical trinity of surf, wake, and ride. With as much as 4900 pounds of ballast at your fingertips and the tapered-v hull for bigger waves, you can launch to new heights from the powerful surf wave or cruise like you rule the water.
Surf
These water sports boats are designed and built to help you rule your surf wave like a titan! It starts at the water level with a modified deep-v created to displace more water with less ballast weight. Yet, the ZS232 is available with as much as 4900 pounds of ballast from the factory distributed evenly throughout the boat for a low bow rise smooth ride and to displace the entire running surface. This creates an extremely long wave with consistent push from face to curl. Whether you like to surf 20 feet behind the boat or right off the swim platform, the Supreme ZS232 wave has a sweet spot just for you. The available QuickSurf System creates lift opposite the surf side, displacing the surf corner to form the wave. Thanks to the evenly distributed 6-position ballast and the high speed Lenco rams that power QuickSurf, that wave can be transferred or mirrored on the opposite side in 1.8 seconds. Also with Supreme, you are not locked in to one wave style. With the combination of the Stinger Wake Plate or the new Silent Stinger option, QuickSurf, 6-location ballast settings, and ZerOff Speed Control, you have unbelievable control over the height, length, and shape of the surf wave. Out of the box, the ZS232 wave is incredible and easy to create, but through the amazing adjustability, the boat's wakesurf performance can grow with your surfing skill.